After months of on-off training and undisciplined gym attendance, I managed to finish the New York City Marathon, November 4th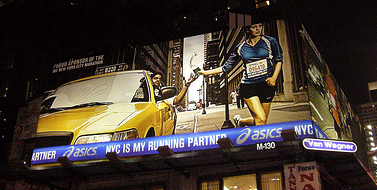 Asics billboard at Times Square, NYC
It was an amazing experience, something I will never forget. The support from the crowds was unbelievable, especially in Brooklyn, which you're in for almost half of the marathon. Rock and metal bands at every roadside garage, bag pipes from the local fire and police departments, a steel drum band outside a church, and a full orchestra playing Rocky tunes at central park! Without all that I don't think I could have done it.
Running with two long-time friends from Belfast helped too. A lot of runner had their heads-down, ipods-in blocking out all the atmosphere of the crowds and city. Whereas we had brightly colored vests, with our names on them, and no ipods or baseball caps. Running to the sidewalks (of the extremely wide USA streets) meant everyone cheering you on, shouting your name and giving support. To the point that, when stopping to stretch or drink water, you felt like you were letting them all down.
The first 16 miles were fine, 16-20 was tougher but not painful, then from 20 to the finish (26.2) – it was just ALL pain, and almost ALL uphill. Here's the elevation guide. You can also see it all using Google Maps (with mile markers) at Walk Jog Run
During the journey I somehow managed to consume the following;
3 bagels a coffee and water waiting to start from 6-10AM
3 different 'boiled sweet' lollipops
Jelly babies from the crowd
Pretzels from the crowd
A Lucozade carb gel carried from the start
All the Gatorade I could stomach (once every mile)
A sachet of salt
Water
After that, I finished it in 5:09. Although we stopped for toilet queues for at least 15 minutes, so Im telling people I did it in under 5 :) I had hoped for under 4:15 but clearly didn't put in enough training, and when that became obvious I was just hoping to finish in one piece. I've uploaded a few race photos to the flickr which are taken by photographers around the course (without you knowing) This is why you'll find me walking in most of them.
The next day, I said thats it, never again – but looking back on it now (when my legs don't seem to be detached from my body) i'm not going to rule it out completely. But if I was to do another marathon somewhere, it would take a lot to top New York.
With only a four day visit to the city, I didn't really get as long as I would have liked to explore it. My first ever visit to New York was a very short trip too, about 7 years ago. I have to say that I really do like the place, I think it is one city that I does live up to it's hype. Its on my long list of places to visit again and spend some real time in.
Things have been quiet here on the blog, I've been very busy as usual. But I should be back posting a bit more frequently from now on. And I even have a little re-design in the works. (Oh! and I bagged me an iPhone in New York, which works quite happily over here in sunny Ireland)