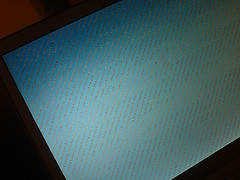 It won't boot and looks like a hardware fault – anyone ever seen anything like this before?
update …
Well, I picked about the worst day of the year to go downtown to leave this in for fixing. Even after phoning yesterday to see if I could drop my Mac into this reseller on a Saturday – they would'nt take it off me until Monday. I then headed for Oxford Circus – bad idea – 1 million shoppers and most of them in the Apple Store on Regent street.
A kind Apple employee informed me that there was no chance they could look at my Mac today and to try another reseller off Tottenham Court Rd. So off I go again – I had almost given up when they told they wouldn't take it on a Saturday too. I finally stumbled upon this Albion Apple Store on the Strand, near the Savoy hotel completely by accident. They booked it in and told me it will probably be 3 full weeks before I see it again.
juuuuuussst great …